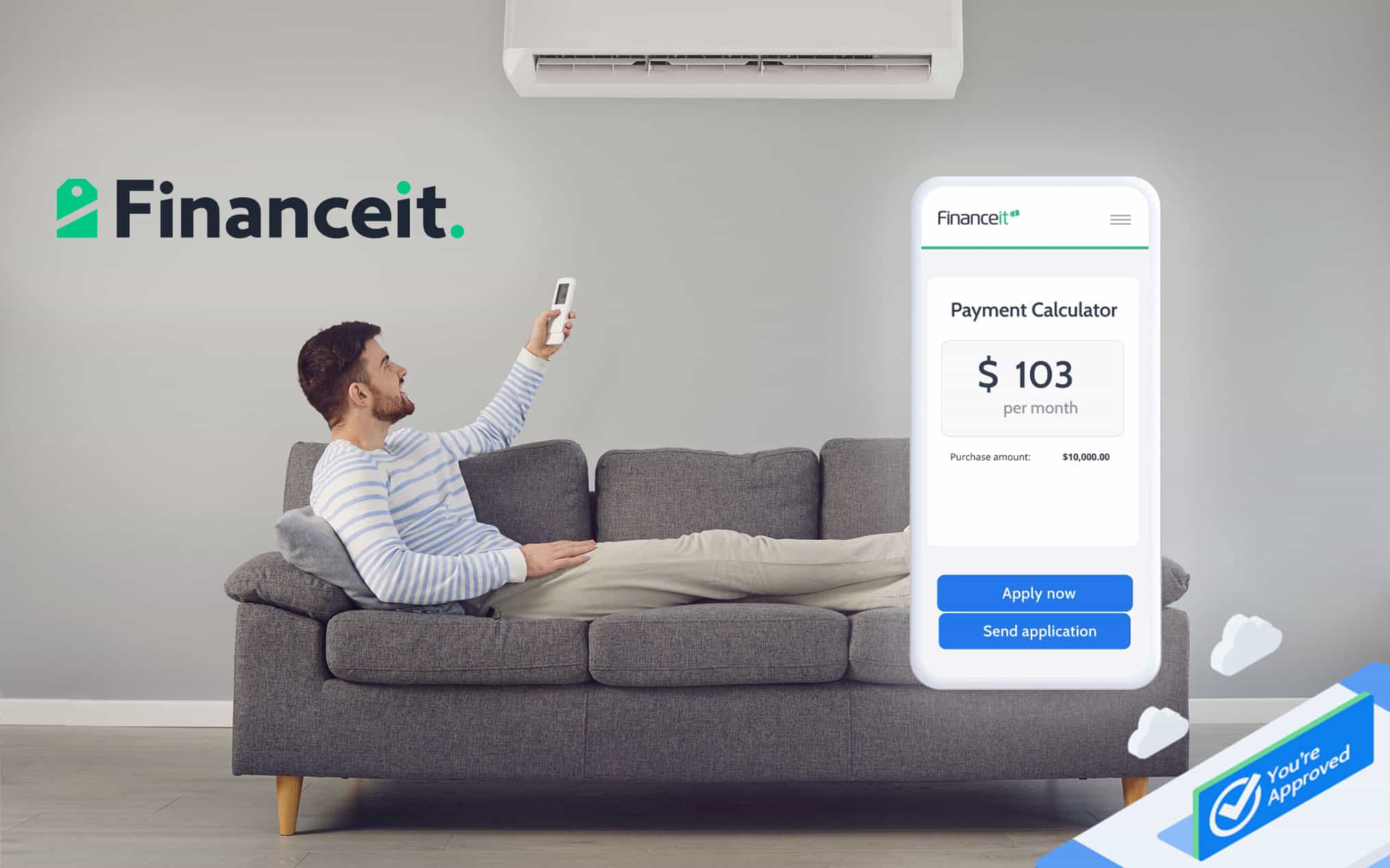 You want to buy a new air conditioner or heating unit, but you need financing to do so.
MST Enterprises has associated with Financeit to offer you a quick, easy, and efficient solution for heat pump financing.
The Outline
With Financeit, you can get long-term financing over ten years for up to $100,000. So, we have you covered whichever heat pump model you want to buy, whether it's a ductless heat pump, a mini-split, a central system or a multizone. Payment is made in monthly installments.
Within only a few seconds, you will know if you qualify, without any commitment or obligation.
Steps
Get a head start on your energy savings by financing your heat pump with Financeit. It all comes down to three simple steps.
First, the application process: apply online by filling out the credit application form. You will receive an immediate response.
Second, once you have been approved, you will confirm and complete the details of your purchase with MST Enterprises by supplying the required documents.
Third, refund payments will be debited automatically from your bank account.
Advantages
At Financeit, there are no hidden fees. Everything is direct, open, and straightforward. You know exactly how much you're paying when you purchase an appliance. All details are provided.
The Financeit loan program offers amortization periods of up to 180 months, which allows for low monthly payment plans that are easy to comply with. In addition, interest rates are affordable, ranging between 8.49% and 12.99%.
Financeit does everything in its power to be flexible and fair towards clients. As a result, you can make additional payments at any time without any penalties.
Your data is safe with Financeit. Bank-calibre encryption is used to ensure that your confidential information stays safe.
Subsidies
In addition to offering financing through Financeit, MST Enterprises helps you save by advising you on how to benefit from government assistance.
There are currently a few government programs available to those who purchase an energy-efficient heating system or air conditioning system: Chauffez vert, Efficient Heat Pumps from Hydro-Québec, Rénoclimat, Greener Homes and Novoclimat.
Chauffez vert
With Chauffez vert, you get financial aid that can go up to $1,275.
The Chauffez vert program helps people replace their fossil fuel heating system or water heating system with electrical systems or systems using renewable energy, like electricity.
By bringing this change to your home, you'll benefit from financial assistance from the government, reduce your greenhouse gas emissions, improve your house's energy efficiency, and save thanks to your new effective system.
Hydro-Québec
Through the Efficient heat pump program, Hydro-Québec offers financial support when installing or replacing an eligible heat pump.
The amount is allotted according to your heat pump's heating output, which is $50 for every thousand BTUs of heating output at -8°C.
Rénoclimat
Rénoclimat is a provincial program for homeowners wanting to improve their home's energy efficiency by renovating their home.
The financial aid allotted for installing an eligible heat pump depends on the heat pump's heating output. You receive $50 for every thousand BTUs of heating output at -8°C.
This way, you enhance your home's comfort level while reducing your energy consumption. You can also get custom advice on how to improve your home's power efficiency by having a Rénoclimat advisor personally visit your house.
Greener homes
Greener homes is a federal program helping homeowners increase their home's energy efficiency, including installing a heat pump.
The government offers up to 700,000 grants that can reach up to $5,000 each.
Novoclimat
Novoclimat is a grant program created for new homes, promoting the construction of energy-efficient homes.
The financial aid allowed for installing an eligible heat pump is $50 for every thousand BTUs of heating output at -8°C.
Make your choice
With this quick and easy financing option and government assistance, there is only one choice left to make. What will your next heating or air conditioning system be?
Articles that might interest you
Certifications